The cdli:wiki project
Born with CDLI, cdli:wiki is now a collaborative project of members of the French CNRS team ArScAn-HAROC, and staff and students in the Faculty of Oriental Studies at the University of Oxford, with contributors in several different countries. The cdli:wiki is currently funded by the Cluster (LabEx) Pasts in the Present ("AssyrOnline: Digital humanities and Assyriology" project).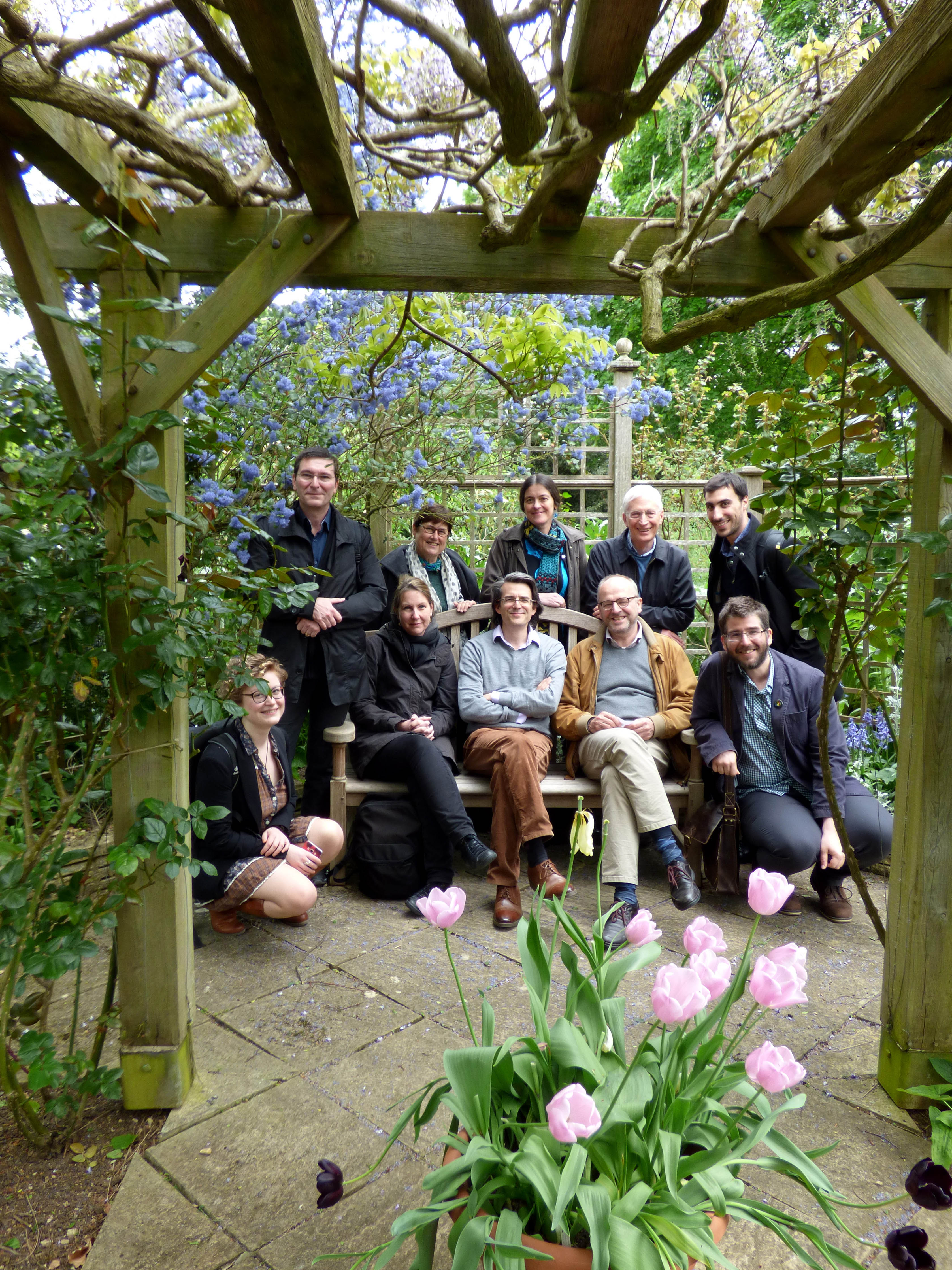 Participants in the 2017 annual meeting of the cdli:wiki team at Wolfson College, University of Oxford.
Back-row from left to right: Philippe Clancier, Christine Proust, Cecile Michel, Richard Firth, Nordine Ouraghi
Front-row from left to right: Lynn-Salammbo Zimmermann, Aline Tenu, Jacob L. Dahl, Bertrand Lafont, Klaus Wagensonner
(location is the memorial bench for Jeremy A. Black in the Gardens of Wolfson College)

Cdli:wiki is a managed wikipedia where only accredited users can modify content. To become an editor please email Lafont, Dahl or Wagensonner.
Project directors
Bertrand Lafont, co-PI of the project (CNRS, ArScAn-HAROC Nanterre)
Senior editors
Philippe Clancier (Paris 1, ArScAn-HAROC)

Bob Englund (UCLA)

Hermann Hunger (Wien)

Christine Proust (CNRS)

Aline Tenu (CNRS, ArScAn-HAROC)
Assistant editors
Moudhy Al-Rashid (Oxford)

Bruno Gombert (LabEx PasP, Nanterre)

Laura Hawkins (Oxford)

Kathryn Kelley (Oxford)

Eva Miller (Oxford)

Nordine Ouraghi (LabEx PasP, Nanterre)

Klaus Wagensonner (New Haven)
Contributors
Marielle Pic (Louvre)

Martin Sauvage (CNRS)

Camille Lecompte (CNRS)

Gauthier Tolini

Michele Cammarosano

Authors of the Dictionnaire de la Civilisation Mésopotamienne (Paris, 2001), under the direction of F. Joannès
Editorial policies
The cdli:wiki is not an open wikipedia but an edited wikipedia. However, anyone can request editorial rights by contacting one of the lead editors.
Editors should inform the lead editor of the area they plan to work on, when they have made substantial changes.
Editors who wish to make global changes to a topic should notify the entire cdli:wiki editorial community beforehand.
How to cite CDLI
How to cite the cdli:wiki
When citing the cdli:wiki, please use the following example as a guideline:
Languages
Articles are currently in English or French, with minimal translation. We hope to establish three versions (English, French, and Arabic) with high amount of duplication of content.
Comments
To improve cdli:wiki, please send comments, ideas, proposals, contributions to this address.
Contributor guidelines
Article naming practices
Image file names
Recommended article length (without tables and bibliographies): 7000 characters (with spaces)
Bibliographical references initially to be included in SQL database.